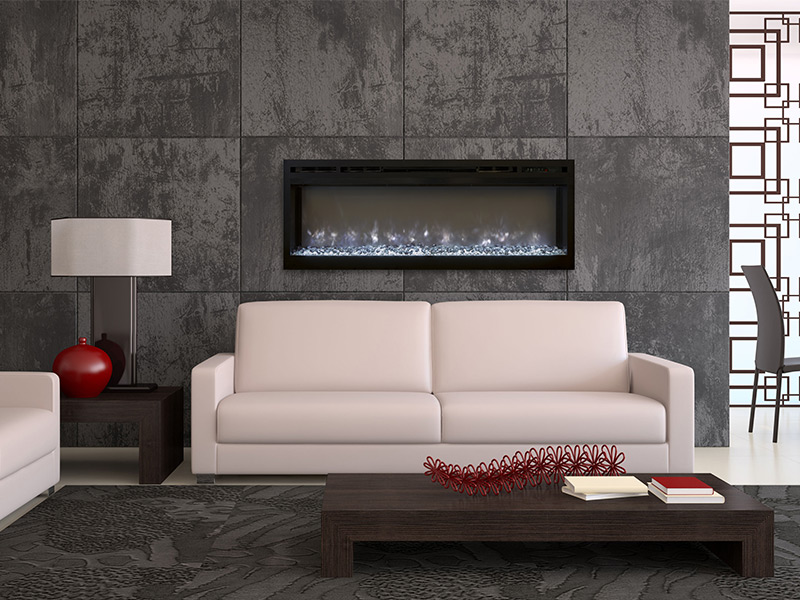 Adding style and elegance to your home while bringing much-needed heat to the room doesn't need to be difficult or expensive with an electric fireplace insert. It can even be energy-efficient, saving you money. Finding the right one for you depends on your current set up (if you currently have a fireplace), as well as what you're trying to achieve with the insert.
Which Electric Fireplace Insert is the Best? 
There are several different types of fireplace inserts to choose from. Whether you want to add an electric fireplace to a room, or already have one in place and are looking for an upgrade, you're sure to find one that meets your requirements. Some of the things to consider include location, functionality, design, form and fit.
 
Building Construction
In the past, it was difficult to install a fireplace with standard 2×4 construction. But not anymore. Wall heaters aren't just wonderful to look at – they serve a functional purpose by providing a cozy source of heat to a living space. The CLX 2 series is one of the best electric fireplace insert options for small spaces. The CLX 2 is packed with great features that include beautiful orange to blue LED flame color change options, glacier crystal to coal interchangeable media, a built-in touch screen feature with a thermostat and a bottom mounted heat vent making it easy to install a TV above. The CLX 2 is available in five convenient sizes.
Replacing an Existing Fireplace
Have an outdated fireplace? You don't need to live with it forever. Replacing an existing wood fireplace with an electric insert isn't difficult, and you'll love the result. Our ZCR inserts are designed to replace wood fireplaces and provide a beautiful and cost-effective substitute. The ZCR insert comes with decorative trim and LED Canyon Juniper logs. It's combination of easy installation, glowing realism, and low-cost functionality makes it the perfect addition to any home.
NetZero or Green Building
NetZero or "Green Building" signifies that a feature produces just as much renewable energy as it consumes yearly. Our FusionFire™ steam fireplaces meet NetZero requirements and feature the most realistic flames ever developed.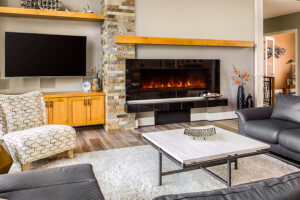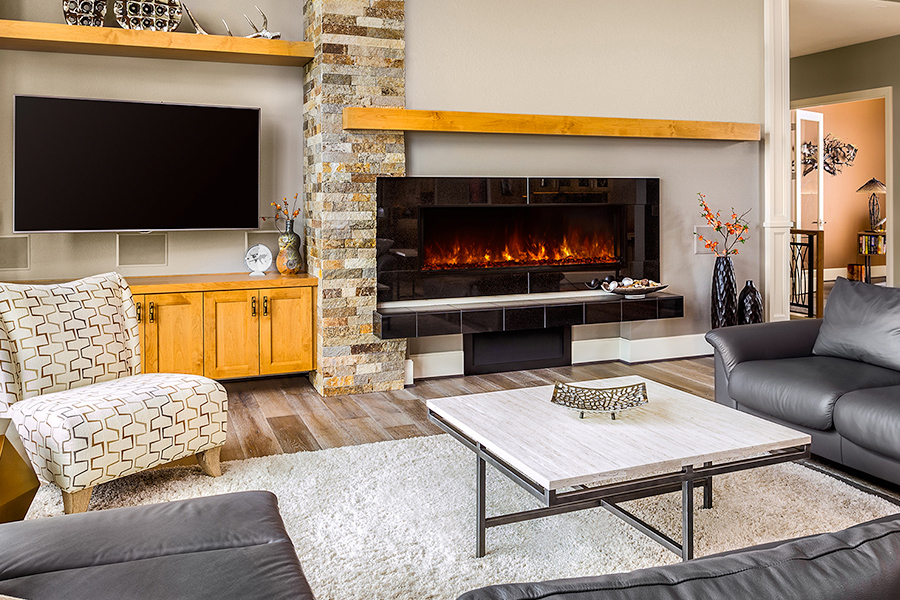 Edge-to-edge 
Today's electric fireplaces look very realistic, adding a visually stunning aesthetic to any room. Edge-to-edge fireplaces are a favorite. A great example is the Landscape FullView 2 series that provides an edge-to-edge flame presentation. This series is available in five different lengths and two customizable flame bed options for different finishes and fits. There's also an optional two-stage heater included for additional heat, warming up 450 square feet. 
Flame Type and Color
Today's electric fireplace inserts feature a variety of flame types and colors. The Modern Flames Spectrum series is a great example. This award-winning, built-in, flush mount electric fireplace features 12 flame color combinations and multicolor, glacier crystal glass finishes. The flame colors project onto the insert's gray backed screen, shimmering through its ember bed, creating crisp, clean flames throughout the entire color spectrum.  
Room size
You'll find that there are a wide variety of electric fireplace insert options available, suited to fit and heat any room, small to large. Your best bet is to contact your local Modern Flame dealer for recommendations based on your room size and other requirements.
Speed
Are you interested a continual heating source that can take time to warm a room or one that acts quickly? Or is it just the ambiance you're looking for? Today's electric fireplace inserts are available in a variety of designs and sizes with several heat settings.
Frequency
The best electric fireplace insert is the one that features a variety of settings with state of the art thermostats that allow you to personalize your choices. This includes automatic shut off when the room reaches a specific temperature and runs at your preferred frequency.
Budget
Electric fireplace inserts make an inexpensive upgrade to your home, adding a soothing, visually stunning aesthetic and warmth.
Our dealers can help you select the best electric fireplace insert for your home. To find one close to you, click here.