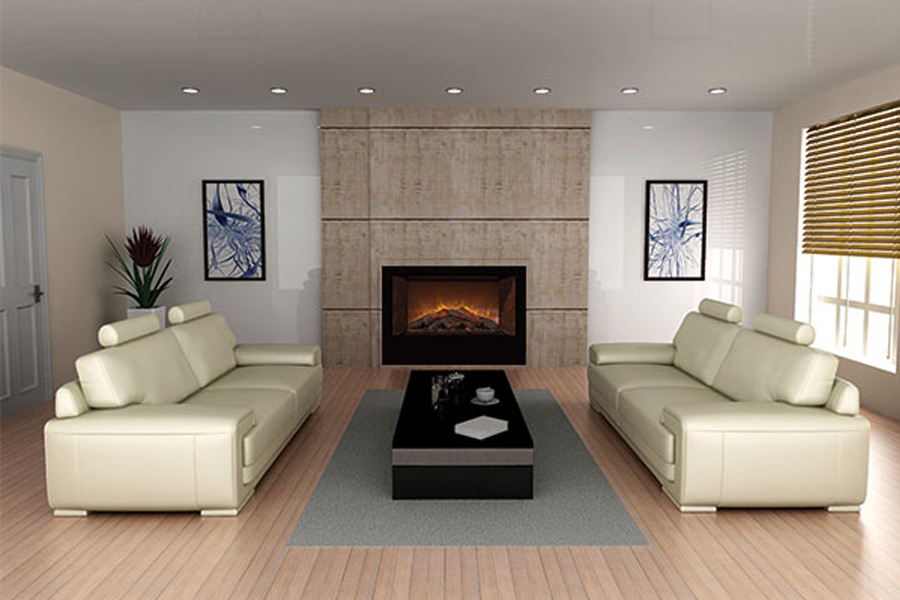 Fireplaces are a perfect addition to any home, but for obvious reasons suit cold environments best. The comfort of a burning hearth also means lower heating costs during the winter months. Wood burning stoves are only efficient when you owners have access to an abundant supply of affordable firewood. Since a majority of the heat produced in these fireplaces is lost up the chimney, an electric model is a better bang for the buck for most homeowners.
There are a few considerations to be made, however, before you decide to install a new, electric fireplace. If your home is already outfitted for a wood burning stove or gas fireplace, the cost to convert may not be in your best interest. You can select from portable types, but the choice to leave the existing set up as is yours to make. Additionally, although electric models can heat small and large rooms effectively, increased BTU counts do add up.
Wood burning stoves are best thought of as a "one size fits all" solution, as not much can be done to control the heat output, save of course reducing the number of logs on the grate. The point worth emphasizing is that when heating a larger space such as a combined living/family room, which is a common flooring plan, it could cost you more to heat with electric than with wood.
Is an Electric Fireplace the Best Choice for Your Home?
Proper fireplace placement is very important. For enhanced heat distribution, most electric models feature blower motors that expel hot air that would otherwise be wasted. This is great from an efficiency perspective, but is also a fire hazard when in close vicinity to curtains, drapes, and other window coverings. You will need to determine which area of the room is best for minimizing this risk without reducing user comfort. Corner placement is a non-issue in smaller rooms, but may hinder heat reception in larger ones.
New electric fireplace variations are produced every year, but in general, they have a more modern feel than traditional wood burners. If you long to have a rustic homestead or if the image of a kettle stove conjures thoughts of relaxation, electric could be a style/mood buster. Be mindful of mantle options when shopping for fireplaces, as there are a wealth of materials that can create the perfect home atmosphere.
On a final note, remember to factor in the cost of running a new circuit breaker if your home is currently unable to support the additional energy load. Your electric fireplace will probably need a dedicated line, so compare local electrician rates in advance.