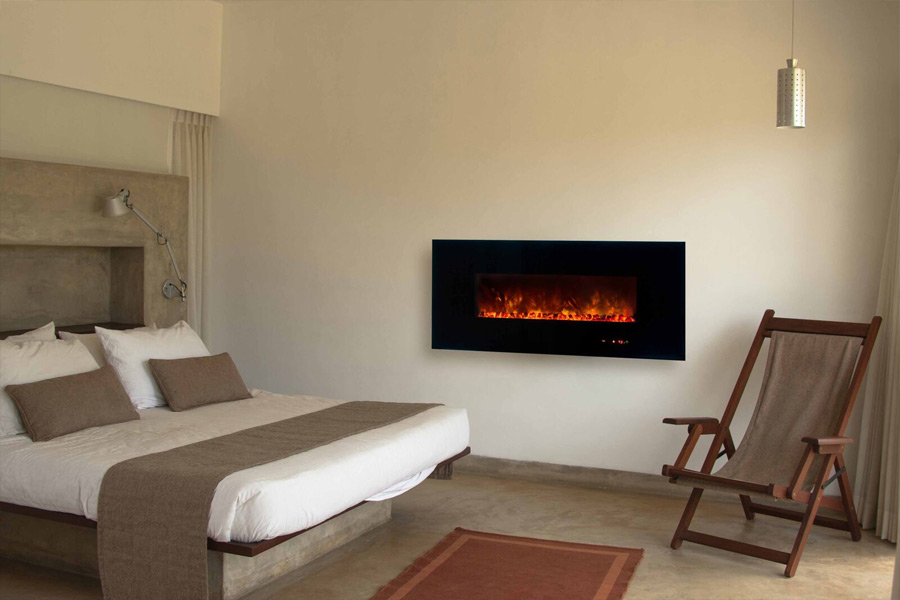 Many people are choosing to live in smaller spaces. Even when downsizing, you can still enjoy the elegance and warmth of a fireplace while saving space and money over traditional options with a corner electric fireplace. A corner electric fireplace is particularly attractive for smaller spaces because it creates additional storage space in otherwise underutilized areas of a room.
Flexible Design
Modern LED fireplaces offer a range of style options. No matter the style of your decor, there is an electric fireplace design to match it. From classical fluted plinths to sleek aluminum and glass models, there is a perfect electric fireplace for your space.
A Safe Alternative
Electric fireplaces are much safer than traditional fireplaces when in operation. Because the heating elements are protected and contained within the unit, the exterior surfaces of the fireplace remain cool to the touch. This makes electric fireplaces a much safer bet around small children and pets. Most LED fireplaces also offer a self-timer syst3em that shuts down the unit after a set period of time. No worries about leaving it on while falling asleep, it will shut off by itself.
Energy Efficient and Green Friendly
Corner electric fireplaces are energy efficient. The LED technology uses very little electricity and virtually none of the heat generated is lost through a chimney. Instead, a built-in blower system ensures that nearly all of the heat created is used to warm the home. Plus, there's no oil, gas, or wood used to create the flame. These fireplaces do not contribute to greenhouse gas emissions and poor indoor air quality.
Adjustable Temperature
Many of these fireplaces offer the ability to enjoy the look and sounds of flickering fire without the oppressive heat. Enjoy the cheerful warmth of a year-round fire without sweltering heat. Then, during in winter months, you have the flexibility to adjust the heat setting to a comfortable range.
Easy to Install
Many corner electric fireplaces are stand alone units that require no special setup or expertise to use. These are great options for renters, as they simply plug into a wall outlet. Installing these units cases no permanent damage to the walls and you can easily cart them away with you when you move! If you want, it is possible to install some units directly into the wall for a custom-built look. Just like the stand alone units, these models do not need any special permitting or tools to install, only a supportive alcove to slide into and an accessible power outlet.