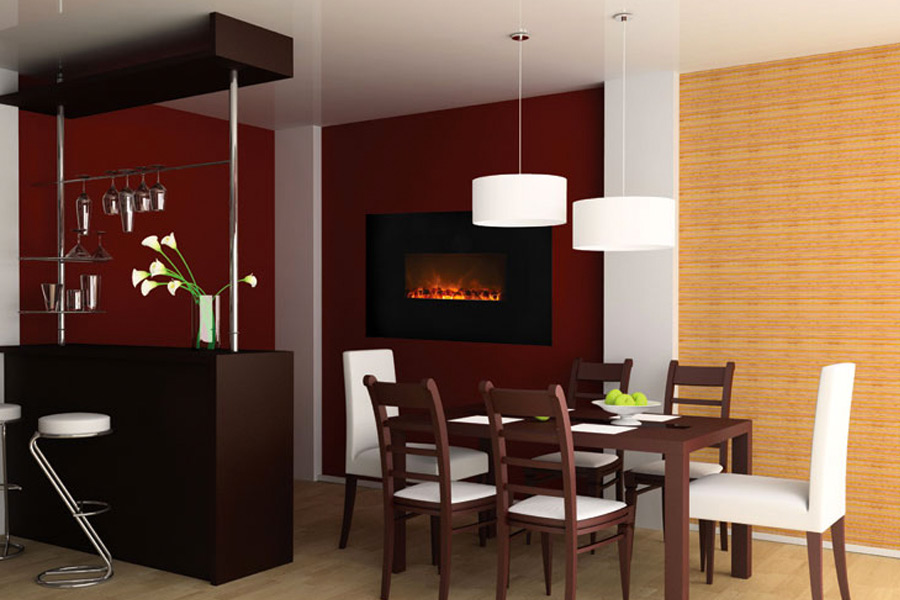 The look of a fire glowing in a fireplace creates a feeling of warmth and ambiance in a room that you are sure to enjoy, and an electric fireplace with heater can actually put out enough heat to provide a comfortable environment in your home. While having a real, wood burning fireplace is thought to be much better than an electric model, anyone who has one will readily admit they require a lot of maintenance. In addition, wood must be brought in with a small supply stored nearby to fuel the fire when it begins to burn low. Wood brought in from outdoors can harbor insects that crawl out and infest the home, and wood fires require constant cleanup of the ashes and whatever falls off the wood while tending the fire.
An electric fireplace with heater included may be just what you and many other homeowners are looking for. These innovative fireplaces are available in a wide range of sizes and styles, so people are able to find the exact look they want to provide in their homes. Whatever particular style you prefer, you can be sure to find an electric fireplace that will fit your taste and your space. If you live in a house that already has a wood burning fireplace, but you do not want to deal with the mess and maintenance, perhaps an electric fireplace insert would appeal to you. An insert offers the best of both worlds, allowing you to use the fireplace already there as an impressive focal point while avoiding the work and worry of actually burning wood indoors.
When you make the decision to install a free-standing electric fireplace with a heater, several other attractive options are available for your consideration. If you prefer a traditional look, you can choose from several sizes of wood cabinets that closely resemble a natural fireplace with a mantle and built-in storage on either side. Other units have a sleek, modern look and can be mounted on a wall or can be positioned on the floor in any space you prefer.
Although some people may be concerned about the cost of adding heat to their home with electricity, others find the convenience far outweighs the additional cost to their utility bill. Imagine simply switching on your electric fireplace and sitting down to relax in a space that quickly warms to your preferred comfort level. In addition to the obvious convenience of an electric fireplace, you can easily move your fireplace if you should happen to move into another residence.