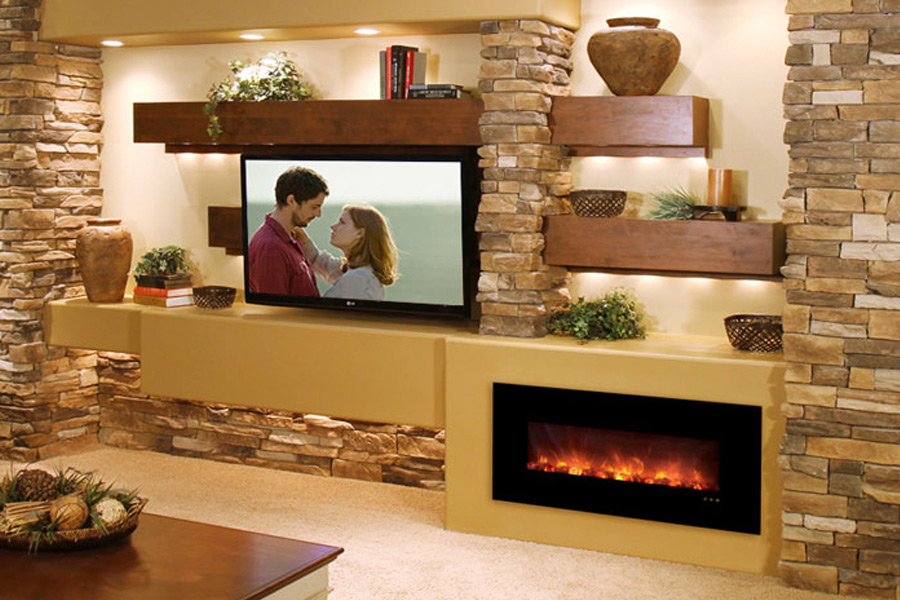 If you are looking for a great focal point to tie a room together, consider a decorative fireplace. You don't have to hire a contractor to install an elegant and warmth-producing fireplace. You can enjoy the decorative appeal of a mantled fireplace for considerably less than installing a traditional one. All you need is an electrical outlet.
Nothing is quite as delightful as curling up in front of a crackling, warm fire on a crisp autumn night. It has timeless appeal and offers the promise of memories to come. Even in warmer months, a mantle offers decorating potential. It's a great place to have ever-changing seasonal displays that make your space a delight to decorate.
The variety of available designs and styles of decorative fireplaces has been on the rise. Now you can perfectly match your personal taste with sleek, modern designs like wall-hung units framed in brushed steel and timeless classics with elegant, fluted columns and molded mantles.
A decorative fireplace also features realistic flames. You'll get the look of flickering, dancing firelight and the sound of crackling logs with a radiant warmth that can help keep your spaces nice and cozy in cold months. The best models feature adjustable thermostats for temperature control, something you can't get from a traditional fireplace, and a slow die-down when the unit goes off.
Other fantastic features you can get from a decorative fireplace include safety features you won't find with traditional fireplaces. One common safety feature is a timer that ensures the unit turns itself off automatically if you forget to do so manually. In addition, the exterior remains cool to the touch, making it a safer alternative in a household with children and inquisitive pets.
A decorative fireplace is a perfect solution for renters as well. Not only can you add the delights of a fireplace in a home that doesn't have one, but it's also portable. When you move, take it with you to your next place. Enjoy a the visual appeal and warmth of a fire in rooms usually bereft of them. A fireplace casting a cheerful glow where you dine or a romantic dancing fire in your bedroom offers a lively, decorative touch. If you are have a large bathroom, you could even have a crackling fire to enjoy while you take a bath.