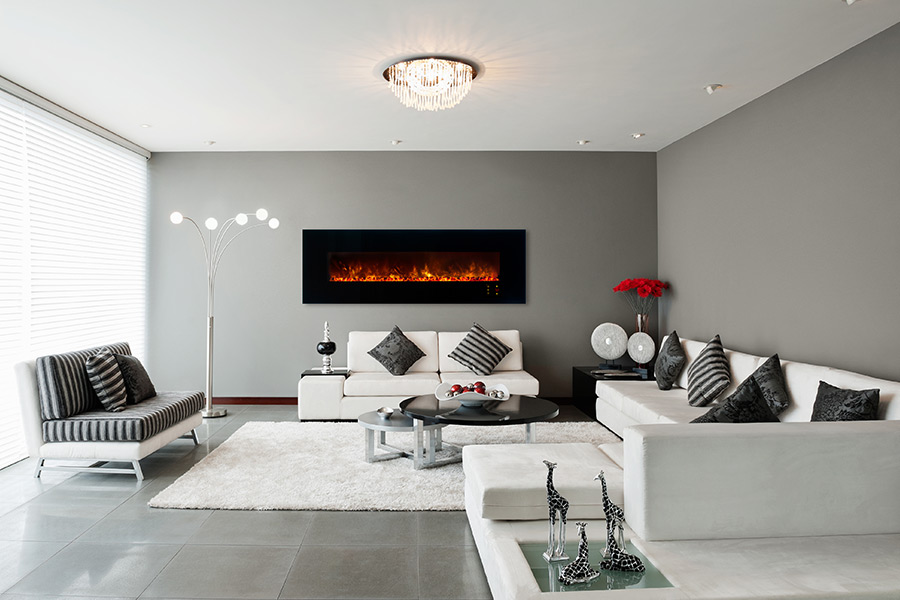 If you're looking for a way to add a striking focal point to a room, consider a wall mount electric fireplace. Wall mount fireplaces are available in space-saving designs, adding an elegant ambiance that will make any room welcoming. This guide to the top brands covers a wide variety of styles that will suit any space.
Wall Mount Electric Fireplace Key Features
Wall mounted electric fireplaces come with a variety of exceptional key features including a slim design, low energy (Low energy LED flame technology), a variety of color options, variable heat settings, touch screen controls, remotes and easy DIY installation. LED fireplaces are a great example of what we mean by "easy installation," only taking a few minutes to install.
The Top Wall Mount Electric Fireplace Brands
If you're looking for a wall-mounted electric fireplace, it doesn't need to be a challenging experience, taking hours of research. The following top brands will not only provide warmth; they'll enhance your home, office or commercial property's appearance.
AL45CLX2-G Recessed or Wall Mount Electric Fireplace
The Ambiance CLX 2 wall mount electric fireplace provides the perfect combination of design and versatility. The AL45CLX2-G model can be directly mounted onto the wall or recessed for a custom fitted look. You can choose from 5 different surround options to enhance your décor, including stainless steel, black stainless steel, flat white metal, matte black metal or the standard black glass. The 45″ size makes an excellent addition to any office, living room, or bedroom in a 2 x 4 wall.
AL60CLX2-G Recessed or Wall Mount Electric Fireplace
This is the 60″ version of the AL45CLX2-G wall mount electric fireplace, creating the perfect focal point in any room that has the additional wall space. This version is also available in recessed designs.
AL80CLX2-G Wall Mount Electric Fireplace
This wall mounted electric fireplace provides "WOW" factor for larger spaces. The AL80CLX2-G wall mount electric fireplace is available in brushed stainless steel or crystal black glass, and four media options, delivering a fully customizable fireplace feature. This incredible electric fireplace adds a visually stunning look to any spacious room and is available in wall mount or 2 x 4 recessed styles. This fireplace retains a heating capability of approximately 450 square feet.
AL100CLX2-G Wall Mount Electric Fireplace
This electric fireplace is the larger version of the AL80CLX2-G mentioned above. It's designed for larger spaces, adding a spectacular, enchanting elegance to large spaces.
AL144CLX2-G Electric Fireplace
This massive twelve-foot electric fireplace is the largest on the market at the moment, delivering an unparalleled electric fireplace experience. This wall mounts electric fireplace would make the perfect addition to any commercial space, including restaurants, lobbies, shopping malls, and hotels. It's available for recessed installation only.
To find the best wall mount electric fireplace, find a dealer near you.