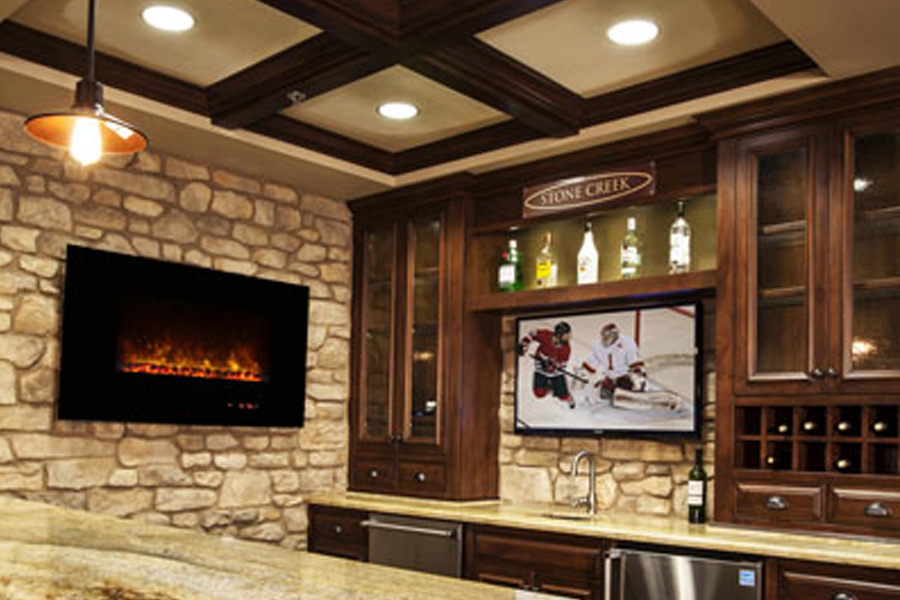 Many people spend a lot of time and money honing a particular style for their homes and furnishings. If you choose to install an electric fireplace in your home, you likely want the fireplace to complement the style you've worked hard to create. How do you determine the best electric fireplace style for your taste?
All Different Styles
Electric fireplaces can be standalone, have a built-in look, or even be mounted on a wall. Any installation type can have many designs. Some go all the way to the floor, while others hang like a picture on the wall.
Standalone
Standalone electric fireplaces can be put near the center of a room to disperse heat throughout that room. They often have a cast-iron-style exterior reminiscent of an antique fireplace. Some standalone fireplaces are modern cubes that go perfectly with a modern interior.
Built In
Some electric fireplaces that look built in fit inside the wall cavity, which requires a more involved installation process than simply plugging the unit into an outlet. If you don't want to undertake a renovation, or if you live in an apartment, a built-in-looking electric fireplace can sit on the floor or be installed in a corner.
Some electric fireplaces that are meant to look built in have elaborate mantels, and can even come with a set of bookcases on either side. This style might fit best in a house that's traditionally styled. Fireplaces with a stone surround, could be the best electric fireplace design because meshes well with any number of interior design styles.
Other electric fireplaces are made to look like furniture, and can be designed to hold a television on top. This style of fireplace is perfect if you envision moving the fireplace to different locations in the house.
Wall Mounted
Wall mounted electric fireplaces are designed to suit a more modern aesthetic. They usually have a simple glass border that fits with a more minimalist design sensibility. Wall mounted electric fireplaces are able to fit into smaller, less conventionally shaped spaces where a more traditional-looking fireplace might be too big.
No matter your design tastes, the best electric fireplace style is the one that you're drawn to. From antique to minimalist, manufacturers today make electric fireplaces that appeal to a wide variety of individuals.