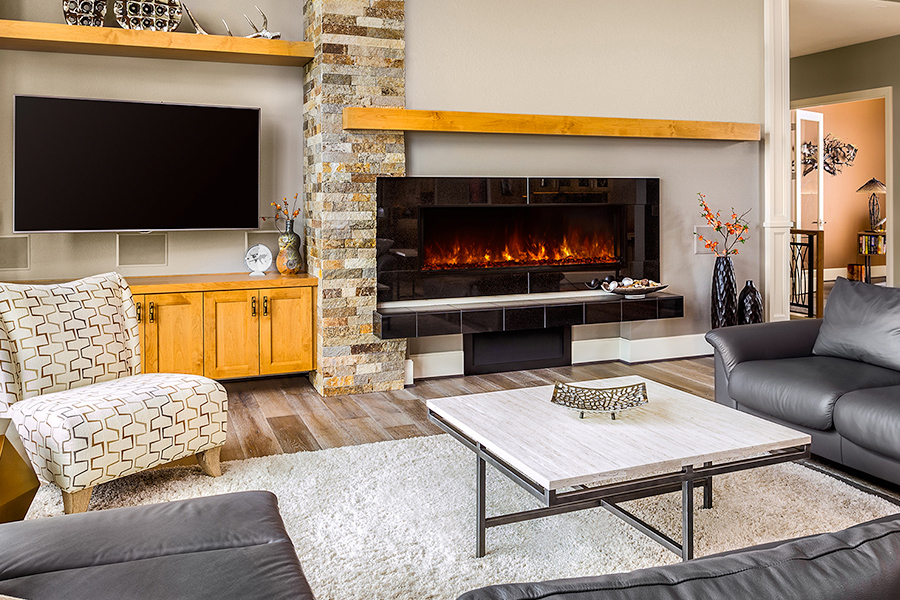 Many homes today are being built with efficiency in mind and include products that save or expend less energy, like the NetZero electric fireplace. Current homeowners are also upgrading their home to eco-friendly fireplaces with the main goal of offsetting energy consumption. They often do this voluntarily, but California is pushing for new residential homes to NetZero. 
What is NetZero?
NetZero means that an object or feature (like a fireplace, building, or vehicle) generates as much renewable energy as it consumes annually. In other words, even though some energy is used, the energy is from renewable energy sources, and no energy is purchased from the grid or external energy producers. 
In California, the definition of "Net Zero" is split into four categories – ZNE building, ZNE campus, ZNE portfolio, ZNE community. Regardless of the type of category, the consumed energy should be less than or equal to the on-site renewable generated energy (on a source energy basis). California is aiming for all new residential buildings to be ZeroNet Energy (ZNE) by 2020, and all new commercial buildings ZNE by 2030.  
 How NetZero Affects Electric Fireplaces 
Modern electric fireplaces are going green. Upgrading from an outdated wood burning or gas fireplace to a NetZero electric fireplace is easier than ever and helps make homes and businesses more environmentally friendly. Electric fireplaces produce "zero" pollutants, making them one of the cleanest heating alternatives available. The best part is that you still enjoy the ambiance of lifelike flames while reducing your overall energy costs.  
Reduce Your Carbon Footprint
One of the ways wood burning fireplaces create pollution is by releasing a substantial amount of carbon dioxide into the air. This obviously isn't an issue for NetZero electric fireplace technology.  These types of fireplaces have also advanced significantly over the years, giving you the look and feel of a real fire without any environmental concerns.  
Keep the Heat Where You Need It
A lot of conventional heating solutions warm up the entire home, even if all the rooms aren't being used. Electric fireplaces enable zone heating, meaning you can comfortably warm only the rooms you're using. This significantly reduces energy waste. An electric fireplace can heat up a 20 by 20-foot room without having to turn up the central thermostat. The "zone heating" approach reduces the amount of energy used and is an eco-friendly way to heat your home and at the same time reduce your electric bill.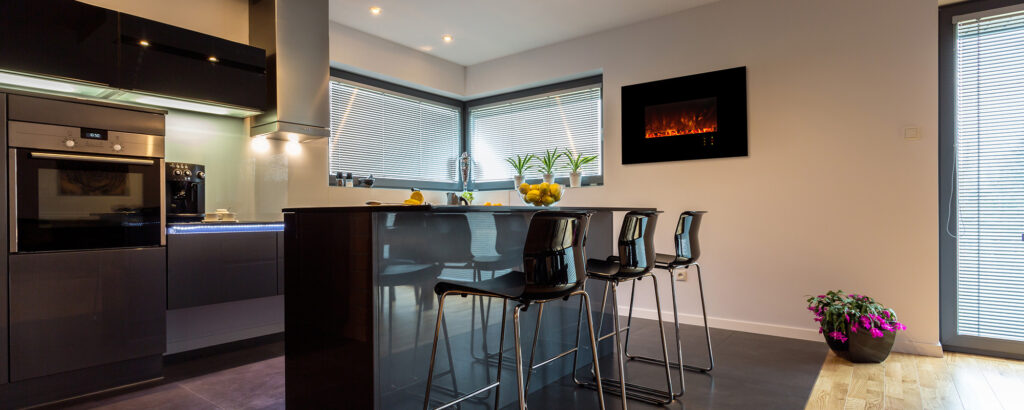 Save Money on Energy Costs
 Because zone heating makes it possible to turn down your central heating system, you'll be able to cut down on pricey electric bills. Electric fireplaces only cost about 8 to 12 cents an hour to run versus gas, which typically costs 12 to 19 cents. Alternative energy such as wind and solar will be critical in a NetZero home, so the load of the fireplace must be taken into consideration.  
Finding the Right NetZero Fireplace Insert
Finding the right NetZero Fireplace requires careful consideration. You'll want to keep the following in mind. 
Room size
The right size is essential for the areas you're trying to heat. A small NetZero electric fireplace isn't going to be able to heat a room that measures several hundred square feet. Bigger electric fireplaces can keep a large room warm and, in some cases, the whole house depending on its size. 
Speed
Do you want continuous heat that takes time to get the room warm or do you want the room to get warm quickly? Today's NetZero electric fireplaces and heaters are available in a variety of designs and sizes with several heating capabilities. Feature-rich versions typically have a thermostat allowing you to set the temperature at a setting and the fireplace will continue to maintain it. 
Frequency
The frequency of use should be a consideration in your purchase. How often are you going to use it? Seasonally, rarely, or all the time? If you're using it for short bursts of lighting during a dinner party, you may choose a fireplace that has colored flames. If you're using it constantly, you may want a fireplace that's designed to do more than produce beautiful lighting.  
 

Financial Budget

 

NetZero electric fireplace prices can vary anywhere from a few hundred dollars to a few thousand. The Price is based on heating capacity, materials used, and special features. The important thing to keep in mind is that NetZero electric fireplaces use clean steam energy and meet the rigid parameters of modern green building codes and the new NetZero requirements. 
Our NetZero Electric Fireplaces
We carry a range of electric fireplaces, including wall mounted, built-in clean face units, recess/no heat units, and built-in flush mount units. Our new, state of the art FusionFire™ steam fireplace uses steam flame technology and is designed to handle the rigors of daily use. The FusionFire™ utilizes extremely small amounts of water when operating. 
It's possible that California will be the leaders in changing the US fireplace market, but at the end of the day, it's about reducing the impact on our environment so that future generations can enjoy it. Our dealers can help you select the right fireplace for your NetZero home. To find one close to you, click here.