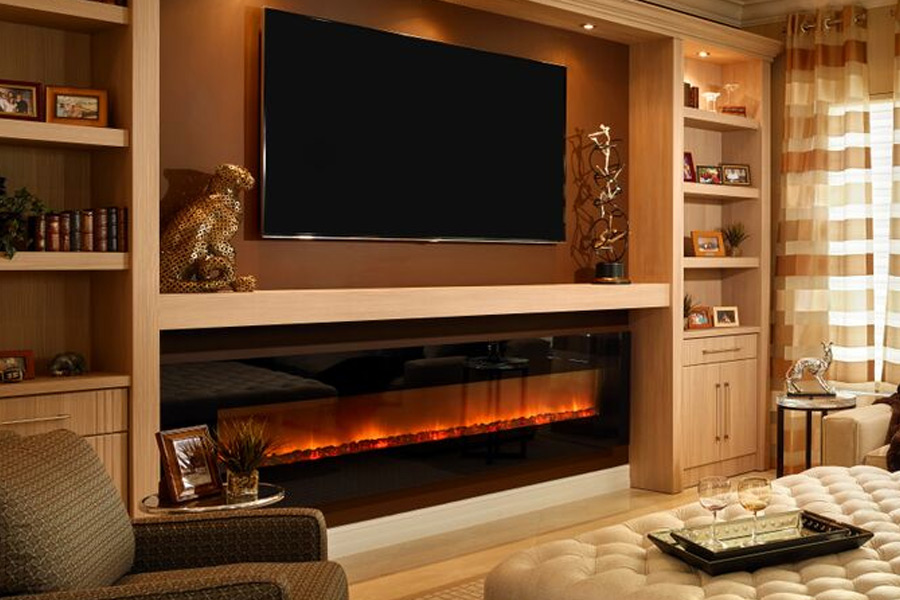 Electric fireplaces have rapidly improved in recent years. What were once often clunky and unrealistic contraptions that gave off poor heat have become elegant and astonishingly lifelike. Modern LED fireplaces possess technological advancements that improve the energy efficiency of their glowing warmth alongside advanced quality of life and advanced safety features. The aesthetics haven't been neglected either, now offering a wide array of designs to suit any home decor. One of the most exciting developments for these beauties is wall mounted fireplaces, which open up a whole host of possibilities for creating a fire-lit focal point in any room.
Flush Mounting for a Built-In Look
With a little assistance, a stand-alone fireplace can look like it came with the house by using a flush-mounted setting. Many modern wall mounted fireplaces have the option for safe flush mounting, opening up design potential beyond what the fireplace itself offers. Your contractor can add elegant tile, a stunning heartwood mantle piece or even an inexpensive slate veneer for high-end style that doesn't break the bank.
Create Eye-Level Drama in the Dining Room
Raise the fireplace off the floor to allow the gentle flicker of dancing firelight to be visible from any position in a room. This is especially stunning in dining areas, providing an elegant ambience to every meal. It can work just as well in any room, particularly those with a modern edge to their decoration. Highlight a gorgeous view of a city skyline with a sleek, narrow fire placed between two high-rise condo windows, or let a wall mounted fireplace provide warmth and style to your basement hideout.
The Romance of Fire in Every Room
The soft, dancing glow of fire has always provided a hint of romance to any space. Now you can bring that intimate glow to every room of your house. Whether you create an elegant, flush-mounted enclosure surrounded by gleaming tile for your above-the-bath fireplace or balance a bedroom fireplace between special pieces of artwork, you can have a heartwarming blaze where you might not be able to have a traditional fireplace.
LED fireplaces are easy to install, needing only a few minutes and a standard outlet. They are cool to the touch, even while actively heating and provide high-definition, realistic flames with variable controls. Plus, they are inexpensive to operate and long lasting. For pricing, safety, reliability and enjoyment, wall mounted fireplaces outshines the competition.