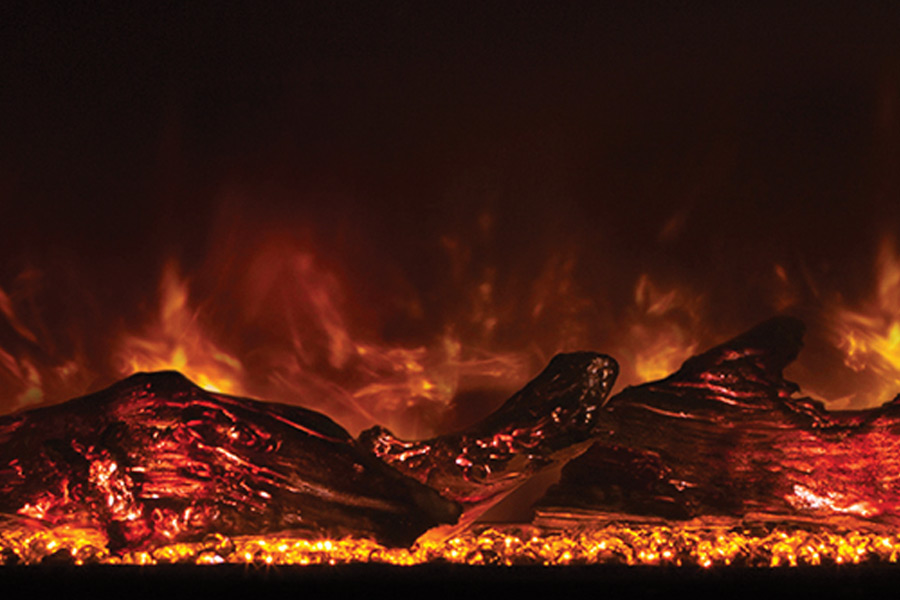 If you want the beauty of a wood burning fire without the hassle of chopping wood and cleaning up smoke and ash, consider electric fireplace logs for your fireplace. They create the feeling of a real fire with glowing embers and comfortable warmth in just minutes.
How Do They Work?
Electric fireplace logs produce lifelike flames with yellow and orange hues that look just like real fire. Inserts come with richly detailed logs and glowing ember beds that can be installed quickly and easily in any fireplace opening. Units are wired with an electrical cord that plugs into any standard household outlet. The realistic flames are produced by a regular light bulb and light that's refracted in a three-dimensional pattern.
Most electric fireplace logs provide heat, as well as glowing flames, and you can choose to operate your unit with or without heat. Log sets contain metal coils that heat up when you plug in the unit, and a fan that blows heat outward into your room. Since heat is generated only in the coils, the logs always stay cool to the touch.
Do They Come in Different Styles?
Yes, electric fireplace logs and inserts come in a variety of styles and sizes, so it's easy to choose a set that compliments your home's overall style. If you want a sleek, contemporary look, you may want an all black or shiny chrome insert. If your home is more traditional, an antique brass insert may be best. You can also choose the look of the logs and the fire. Although traditional-style imitation logs are the most popular choice, you can also choose pebbles that resemble coal and burning elements that resemble sleek steel tubes for a unique look.
What are the Advantages?
Electric fireplace logs provide the look of a real fire and cozy room warmth with many advantages over a traditional wood-burning fireplace:
Inexpensive to operate
Easy to install
No installation costs
Completely portable
Lightweight for easy movement
Emission-free
Doesn't require ventilation
Doesn't require a fireplace screen for protection
No cleaning of soot and ash from your hearth and chimney
No chopping wood or buying cords of wood during the winter